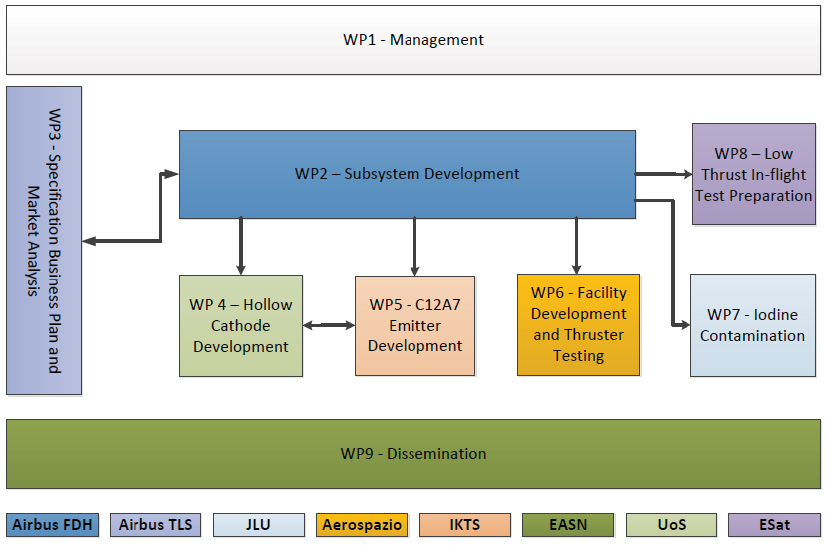 In order to ensure the optimal development of iFACT, the work has been divided into nine work packages (WPs) as illustrated in the Work Plan above. Each work package is a unit of work clearly distinguishable from other such work packages with scheduled start and completion dates aiming at subdividing and facilitating the work that was performed.
Every WP had a dedicated leader, who was outstanding in his particular field. Therefore, it was ensured that the objectives were accomplished as efficiently as possible in order to perform the work in the estimated time frame.
WP Leader: AIRBUS DEFENCE AND SPACE GMBH (Airbus FDH)
The overall objective of WP1 Management comprises planning, organization, coordination and controlling of iFACT project in order to accomplish the targeted goals.
Project management aimed to:
Ensure effective coordination and collaboration among partners
Ensure the fulfillment of the overall goals of the project, within the time and budget constraints
Assess the quality and the on-time delivery of project's results
Maintain accurate records of cost and effort reports by partners
Minimizing risks and developing contingency plans and corrective actions accordingly
WP Leader: AIRBUS DEFENCE AND SPACE SAS (Airbus TLS)
WP2 summarised the main development activities performed during the iFACT project. In particular, the specification that was prepared in the scope of WP3 and WP9 was processed in order to create sub-specifications for each iFACT subsystem component. The components were:
Advanced Cusp Field Thruster
Neutraliser
Iodine Feeding System
Power Processing Unit
For each individual components sub specifications were derived that were used for the development of each single component and as input for other work packages, such as WP4, 6 and 7.
Based on this specification each single subsystem component was designed, integrated to the iFACT propulsion subsystem Engineering Qualification Model (EQM).
In addition, an activity in order to up scale the technology towards higher power was performed.
WP Leader: AIRBUS DEFENCE AND SPACE SAS (Airbus TLS)
WP3 aimed to define the right specification for the iFACT product. More precisely, the objectives of WP3 were to:
To make sure the project targets the right market both in terms of performance and cost
To guarantee that the developed product fits the spacecraft system needs and standards in terms of performance, quality and interfaces
WP Leader: UNIVERSITY OF SOUTHAMPTON (UoS)
WP4 aimed to ensure the development of a prototype hollow cathode capable of providing currents in the 0.1 to 0.6A for the 300W thruster and up to 2A for the 1kW device for a duration of 50 hours while running on iodine propellant.
More precisely, the objectives of WP4 were:
An extensive review of previous work on hollow cathodes running on iodine and of candidate insert materials which could be inert with respect to the chemically aggressive properties of iodine.
Design and manufacture of a breadboard hollow cathode assembly
Limited testing of the HC with a range of potential insert materials
Produce of a roadmap for the development of a flight qualified iodine hollow cathode for the ACFT
WP Leader: FRAUNHOFER GESELLSCHAFT ZUR FOERDERUNG DER ANGEWANDTEN FORSCHUNG E.V. (IKTS)
WP5 aimed to ensure extensive the development and manufacturing of electron-emitting ceramics for the testing as rocket propulsion. More precisely, the objectives of WP5 were:
Material development of the electron emitting ceramic components
Manufacturing and provision of components
Evaluation of methods for electrical contacts
Characterization of mechanical properties
WP Leader: AEROSPAZIO TECNOLOGIE SRL (AERO)
The overall objectives of WP6 included:
Increasing the knowledge on the compatibility of the iodine propellant with test facilities and diagnostics
Optimising test equipment and test procedures for the new propellant
Safety procedures and measures to protect equipment, personnel and environment
Preparing a iodine test facility able to perform long duration testing
Providing a characterization of the 300 W iFACT subsystem, including a long duration test
WP Leader: JUSTUS-LIEBIG-UNIVERSITAET GIESSEN (JLU)
WP7 aimed to study the interaction of iodine vapour and iodine ions with various materials used in the context of satellite design and construction. In particular:
To study the compatibility of satellite materials with iodine
To study the effect of ion beam erosion of iodine ions with satellite materials
To assess lifetime of components during iodine exposure
WP Leader: ENDUROSAT AD (ESAT)
WP8 aimed to ensure that the small electric propulsion subsystem would meet the performance requirements through its integration on a CubeSat platform and a campaign of tests of the integrated system. More precisely, the objectives of WP8 were to:
Define the requirements and interfaces for the integration of the thruster on the EnduroSat CubeSat platform.
Perform system integration
Define the specifications and procedures for the test campaign including the designing of the GSE (Ground Support Equipment).
Perform final test and validation of the integrated system
WP Leader: EASN Technology Innovation Services (EASN)
WP9 aimed to ensure extensive outreach of iFACT to the right audiences by using the right language at the right time so as to maximize their exploitation opportunities and achieve the intended impacts. More precisely, the objectives of WP9 were to:
Create value and ensure wide-scale uptake of project results through comprehensive dissemination and communication strategy for each identified target group
Provide open access to the results achieved within the project
Publish achievements and lessons learnt through events and local and international press during, but also beyond the end of the project
Develop synergies with other projects in related technological fields
Prioritise areas for extending the developed approach into other applications, value chains and sectors
Create awareness for the social benefits of the project outcomes by targeting the general public
Provide adequate and effective protection and management of the knowledge created in the project, having due regard to the legitimate interests of the partners concerned
Provide a strategy for exploiting the results and outcomes to space operations and transportation