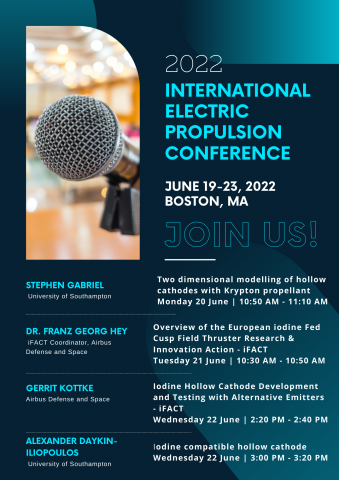 Join us for the International Electric Propulsion Conference (IEPC) 2022!
The IEPC 2022 is taking place in Boston and Cambridge, USA, on 19-23, June 2022 with sessions being held on the Massachusetts Institute of Technology's campus.
This international conference will bring together major stakeholders of the electrical propulsion ecosystem. The iFACT project still has a few days to go before it can be wrapped up and this is a key opportunity to showcase and exchange on its latest achievements and results through the following presentations:
Stephen Gabriel: Two-dimensional modelling of hollow cathodes with Krypton propellant | Monday 20 June, 10:50 AM - 11:10 AM
Franz Georg Hey: Overview of the European iodine Fed Cusp Field Thruster Research & Innovation Action - iFACT | Tuesday 21 June, 10:30 AM - 10:50 AM
Gerrit Kottke: Iodine Hollow Cathode Development and Testing with Alternative Emitters - iFACT | Wednesday 22 June, 2:20 PM - 2:40 PM
Alexander Daykin-Iliopoulos: Iodine compatible hollow cathode | Wednesday 22 June, 3:00 PM - 3:20 PM
More detailed information (agenda, speakers, etc.) is available here.
We will be more than happy to meet you there!